April 2017 Newsletter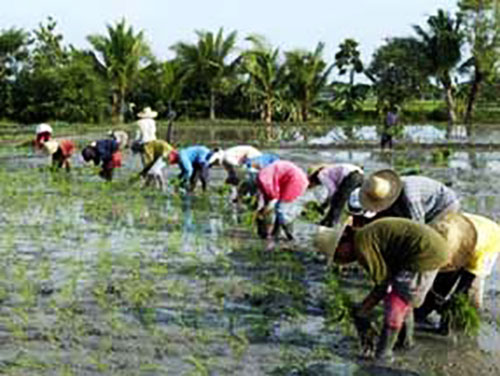 We are preparing for a Huge Harvest in Mindanao!
An Eternal Harvest!
Special Note and request from Pastor Tony!
We have the opportunity to break the back of the devil's religious tyranny in Northern Mindanao this month in one dynamic swoop by training 170 of God's finest to win souls and Multiply!
First of all I want you to know this is a two for one set of seminars! What a bargain! We will fly to Cagayan de Oro then go by bus to Ozamis City for the first seminar of 100 Pastors, April 24-26. This is a real opportunity to kick the devil where it hurts (Win more souls!) The Pastors are hungry to be equipped to win the people to the Lord and learn how to multiply themselves by training some of their members. With God's grace they will win approximately 5,000 plus souls during the 3 day seminar.
After graduation we will take another bus ride to Oroquieta City for the next seminar of between 60 to 70 pastors, April 27-29. Same scenario, we do the training and literally thousands will be saved. These two seminars will ignite a wave of evangelism that potentially can sweep that area for Jesus. Creating a perpetual stream of new souls every month till the region is won for Jesus! These seminars will cost us approximately $2,000 total because they are back to back and only about a 2 hour bus ride from each other. Normally we'd spend up to $1,500 for each, so we save time and money with a huge impact! We need sponsors or a sponsor for this set of seminars immediately. When you sow into the souls of men, you are making an eternal imprint that will last for eternity. There's nothing more important! Jesus sowed His life into the souls of men! You can sow into the souls of men with this and many more opportunities by partnering with us on a monthly basis sharing in all these seminars making your own eternal imprint. Just do what you can and help us build the Kingdom of God together, Hallelujah!
In God's grace and grip, Tony
PS – Read more on these amazing seminars in the next few paragraphs!

CLICK HERE TO

Or you may send your tax deductable contribution to:
Revival Fire Ministries International
P.O. Box 30487 Amarillo, TX 79120


Ozamis and Oroquieta City in Northern Mindanao
Misamis Occidental
Batches 181 and 182
We have just scheduled 2 batches of Stealth Evangelism for the last of April in Misamis Occidental, northern Mindanao.

The first batch is a gathering of 100 pastors coming from different churches and denominations in Ozamis City. It has been organized by a graduate of Stealth Evangelism from Batch 176 in Davao City held on March 7 of this year. Bishop Balili with his 4 pastors traveled by car 6 hours from Cagayan de Oro in order to join that class that made him fired up for evangelism and he vowed to bring the Stealth Program to the whole of Mindanao through his network of over 700 pastors. He has actually organized 6 classes in different locations which are due in the next few months with 51 different barangays (districts). Ozamis is predominantly Catholic having the Spaniards influence and the presence of Spanish garrison during the 18th century, the time where the pirate activities were rampant and needed to be controlled by the garrison.

Ozamis is part of Misamis Occidental, whose name derived from "MISA" which meant Catholic Mass thereby making Roman Catholicism the predominant faith of the people of Misamis Occidental having 70% affiliation and second most members are with the Aglipayan Church with 20% while several Protestant Churches as well as Islam are the minorities that represent only 10%. Misamis Occidental has a population of 602,126 people, that's about 750 inhabitants per square mile. The dense population along the coast consists mainly of migrants from Cebu and Bohol.

The 2nd batch is in the capital city of Misamis Occidental which is Oroquieta City where 60-70 pastors are eagerly awaiting to be equipped. With the Protestant Church as a minority in the region, there is a huge task to pull it up significantly and raise the numbers of born again Christians. With the vast majority believing in Jesus and in the Holy Bible, the season is ripe to bring them into a relationship with Jesus. These 2 classes in a row (Monday to Wednesday – Ozamis and Thursday to Saturday in Oroquieta), will certainly launch a revival in the region, an immediate result of 8-10 thousand new souls being led to the Lord during the class and 30-40 thousand more souls when these pastors do the training/practicums in their churches. Imagine training 10 reapers each per church of 160 churches. That is an additional 4,000 + souls per week plus the countless ones they will win during their monthly practicums. WOW, the numbers are unimaginable but GOD is in the business of multiplication! In such a short span of time, there will be a rapid increase of new churches planted in the next 6 months. All because these pastors attended the Stealth Evangelism Seminar. And in a year's time, Ozamis and Oroqueta City, with a combined population of 240,000 (2015 Census) can be conquered for Jesus! Our Lord and Savior's blood certainly did not flow in vain.

It's all worth our resources, blood, sweat, and tears poured out into these 2 classes. And those who support us financially will share in that harvest of souls and where there is harvest, there is abundance and prosperity!

I pray that the Lord shall multiply our generous committed sponsors and they in turn, shall reap more than a hundred fold in this eternal harvest!

Much blessing to you all,
Pastora Remy Mordeno

CLICK HERE TO

Or you may send your tax deductable contribution to:
Revival Fire Ministries International
P.O. Box 30487 Amarillo, TX 79120

Praise the Lord!
Fire insurance claim finally released!
Although not for the full amount and over 13 and a half months later (but from what we are told we got them to pay more than most people do here in the Philippines) we have enough to rebuild a School/Mission Center. Can't build it back the way it was, but we can shrink it down some and keep going! We placed the funds in time deposit to preserve it till we start to rebuild. We are presently working on the plans. Now please pray with us as we look for the right people to work with us. We are seeking people that are skilled and also have the integrity to complete the work. Love you, Calli