November 2012 Newsletter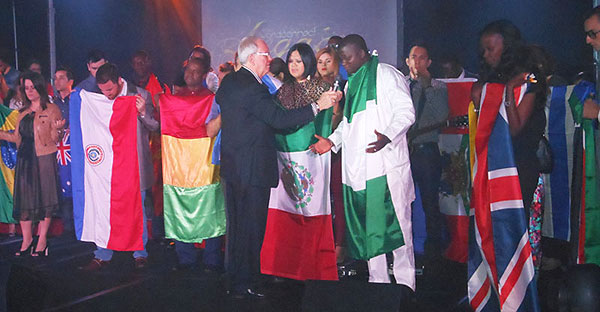 Pastor Larry Titus during prayers from around the world!
39 Countries at
KGM Connect Conference
Calli and I traveled to Orlando, Florida to attend the Kingdom Global Ministries (KGM) Legacy Connect Conference. There were 39 countries around the world represented. We had been invited to represent the Philippines. This was also a celebration of Pastor/Apostle Larry Titus's 70th birthday and 50 years in the ministry. Wow! What a special event. Guest speakers included Pastor Jack Hayford, former president of International Church of the Foursquare Gospel, Executive Senior Pastor Tom Lane of Gateway Church in Southlake, TX among many others. Also there were congratulations and blessings for Pastor Larry via videos from Senior Pastor Robert Morris, Gateway Church Southlake, TX and Pastor Jimmy Evans, Trinity Fellowship, Amarillo, TX. The whole thing was an event to bring the Generals of God's army together to connect with each other, making available the current highest tech weaponry to all these awesome ministries.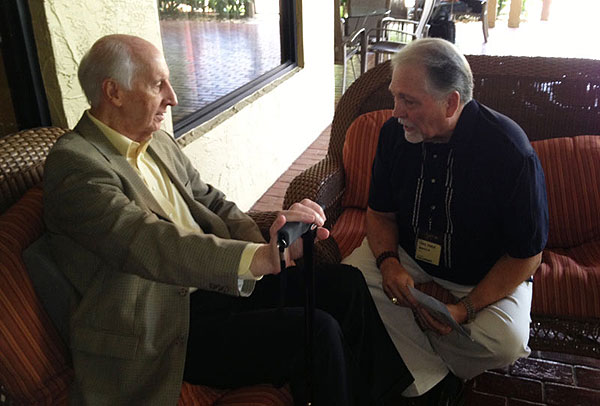 Pastor Tony had the rare opportunity to spend a few minutes with Jack Hayford personally at the connect conference sharing with him about the Stealth Evangelism Program. Jack is the founding pastor of The Church on the Way in Van Nuys and was the fourth President of the International Church of the Foursquare Gospel. In the Philippines we have trained hundreds of Pastors and leaders from the Four Square Churches there..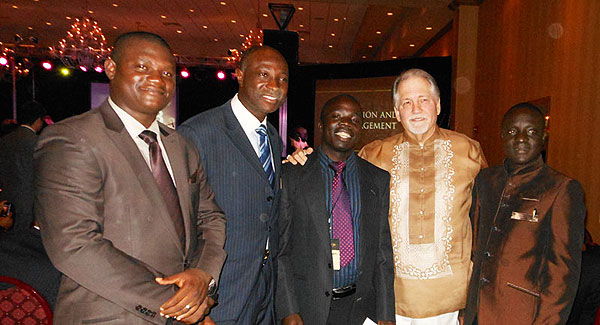 Pictured here are some of Tony's friends from Africa. Left- Pastor Deji Adekoya, Nigeria, Pastor Rotimi Osoba, Nigeria,Pastor Moses Nyanzi, Uganda, Pastor Tony Poole, and Pastor Segun Olatunde, Nigeria
Introducing Stealth Evangelism
to pastors from around the world!
We were there introducing the Stealth Evangelism Program that we have developed over the last 10 years in the Philippines giving us great connection opportunities. Many pastors saw the potentials of the program and have requested us to come to their nations in the near future to bring this awesome tool and light fires of Evangelism. Some of the invitations we received include going to: Athens, Greece, Brazil, Paraguay, El Salvador, Colombia, 5 different cities in Nigeria, Kenya, Uganda, Sierra Leone, Liberia, Sri Lanka, Tanzania, Australia, this is just starters. It will take finances for every one of these. Plus our school in Manila does not shut down while we are gone. We have seminars twice a month in our Dunamis Mission Center there. We have a lot to do and day light's burning, Amen?!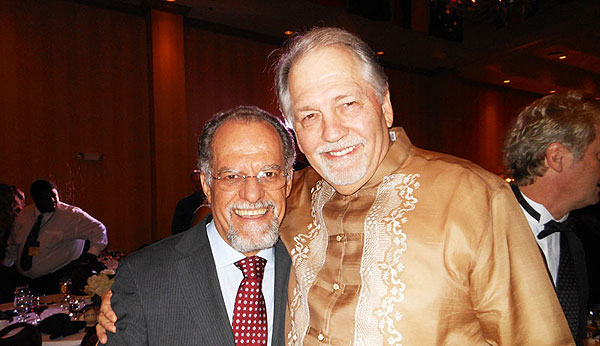 Pastor Marcio Valadao, church of more than 50,000 in Brazil and Pastor Tony are planning to bring the Stealth Evangelism Program there in the next year. Training manuals are going to be translated into Portuguese before the Seminars! Another opportunity to sow into souls through supporting the mission trip there ASAP. We will give further information as it unfolds! Praise God!!!

CLICK HERE TO

In U.S. Send your tax deductable contribution to:

Revival Fire Ministries International

P.O. Box 30487

Amarillo, TX 79120

In Philippines, deposit directly in BPI account:

Bank : Bank of the Philippine Island

Account Name: Dunamis International School of Missions

Account No. : 1761-0035-81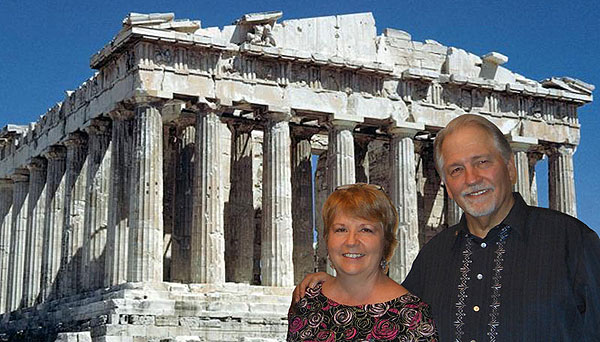 An Invitation to bring
Stealth Evangelism to Greece!
First we would like to share with you about an invitation from Pastor George Patsaouras, Apostolic Church of Christ in Athens, Greece where for 2,000 years they have been dominated by the Greek Orthodox Church and other religious groups that have kept them in religious bondage for centuries. I've been feeling a drawing to the Mediterranean for the last 3 years and praying that God would open a door into that region of the world. As Pastor Larry Titus introduced him, he said that Pastor George's church is unique, the only one like it in 2000 years in Greece. When I heard that my heart just jumped. I felt the Lord saying to me, "This is it!" Think about the economic conditions in Greece right now. What better time to go than when the iron is hot. The country is bankrupt. People are destitute and need Jesus right NOW!!
Maybe there are those of you that would like to partner financially with us and help us take the Stealth Evangelism Program to them NOW! It's our belief that we will be setting a fire that will set 100's of thousands of people free and put them on a heavenly highway by getting them born again, Amen? Pastor George took a copy of our curriculum manuals to have them translated into Greek in preparation for our coming seminar there. We stand ready to go as soon as we have the funds to do so. I want to take Calli and one other staff with me to do these seminars.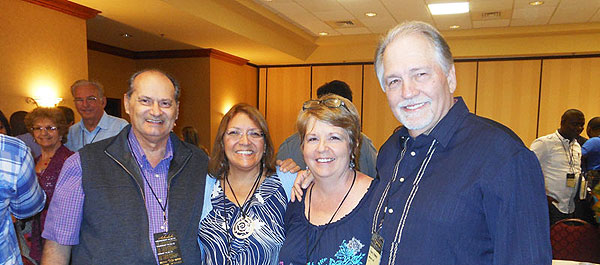 Tony & Calli with Pastor George & Margarita Patsaouras from the
Apostolic Church of Christ in Athens, Greece
We're not sure yet how long we will stay, but probably two weeks or more. We need to train a lot of people there including some other pastors and leaders from other churches. Be praying for us. They will take care of us while we are there so it's mostly going to take our flight cost and things related, plus minor expenses for the training and materials. Best estimate to fly us and be there for 2 to 3 weeks will take approximately P250,000 for our tickets, staff's visa, airport fees coming and going, etc. We would like to schedule the trip as early as the middle of January, if we are able. Again let's strike while the iron is hot! Contact me ASAP at  
1-806-416-2313  or use the on line giving on our website at www.dunamisinternational.org Or you can mail your designated gift in to our US Office and make your checks out to Revival Fire Ministries Intl., PO. Box 30487, Amarillo, Texas 79120.
Stealth Evangelism Going Worldwide!
With this trip back to the states and the KGM Connect Conference we both realized that we will be traveling a lot in the coming years. The Lord spoke to both of us and told us that we'd be taking the Stealth Evangelism Program all over the world.
We will still be based in the Philippines, and we will still have our seminars at the Dunamis International Mission Center. We will also be organizing monthly mobile seminars where our staff and us when we are here will go to locations where the pastors are too far from our mission center to come train in Manila. The pastors in the provinces generally don't have the money to come to Manila even if it's all free after they get here. So, for those pastors we'll take it to them for free, Amen?
What we are doing is lighting fires of evangelism everywhere we go. We'd like to invite you to become a monthly partner with us in doing these seminars that are so life changing to the pastors that we are training. We don't have to tell you that none of us can take anything with us to heaven except the souls of men that we help receive the Gospel. We may be the feet and hands that get the job done, but you are the fuel and fire for the engine to get us there. Without you we can't go. Without you we can't stay on the battlefield of God and create mighty soldiers and leaders for the battle. That's right we are in a battle for men's souls with 9/10 of the world lost. Join us in building the Kingdom of God! To God be all the glory! My friends, whatever you can do will help. Whether it's P100…,or P5000 per month you can be a part in the winning of souls worldwide. Come join with us in reaching the unreached both here in the Philippines and around the world!!
We love you all, Tony and Calli Poole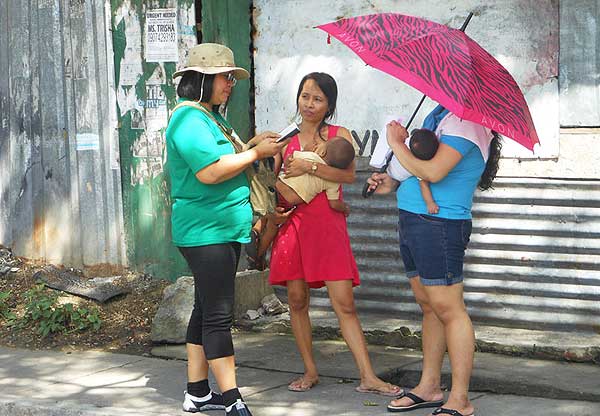 Rev. Sylvia Santos sharing with two ladies in the community
during street witnessing exercises as part of our most recent class this month.!
"The best way to
evangelize my friends!"
I am Rev. Sylvia P. Santos from Bataan. We were very eager to come to Dunamis. I found the Stealth Evangelism awesome! And I would say the very best evangelism tools I have ever seen in my entire life. I found the Stealth Evangelism Program easy and effective! It's the best way to evangelize my friends.
I'm a Bible school teacher, revivalist, evangelist, senior pastor & missionary, but this is the very first time in my life I won 207 souls in just 4 practicums or 8 hours of street witnessing, Wow! It's really amazing. I am convinced this method of witnessing is inspired by the Holy Spirit, and there's no doubt, heaviness, or damaging of relationships with this technique.
Surely there will be more souls won if we will continually use this method and establish reapers clubs in every local church. I will support Dunamis by means of sharing this method and program to our church workers, Bible school students and other church leaders. And I will use this method as one of my subjects for our Bible School. Also I will stand as a prayer intercessor for Dunamis staff and I am willing to volunteer as a monitor or teacher in the school in gratitude for this awesome method, and your loving generosity to all of us.

CLICK HERE TO

In U.S. Send your tax deductable contribution to:

Revival Fire Ministries International

P.O. Box 30487

Amarillo, TX 79120

In Philippines, deposit directly in BPI account:

Bank : Bank of the Philippine Island

Account Name: Dunamis International School of Missions

Account No. : 1761-0035-81