March 2017 Newsletter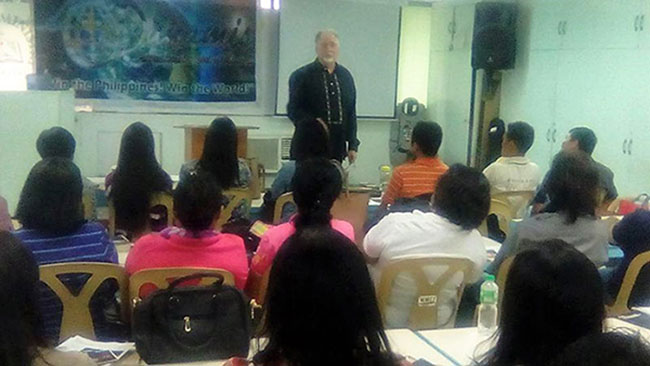 Pastor Tony teaching at the class we held in Makati, the business center of Manila.
Urgent Message from Tony and Calli!
What am I here on this earth for?
This year has started off with a bang, in that we have anywhere from 3 to 5 Mobile Seminars scheduled every month. When we do a seminar there are invitations during every one of them to come and do a seminar in other locations. Some times 2 to 3 invites. This means our schedule is filling up for months in advance to do seminars all over the Philippines. Well, if we do 4 mobile seminars every month the cost is between $5,000 to $6,000 per month. Our total income is between $2,000 to $2,500 monthly from partners. The rest comes from our personal Social Security and about $2,000 from rental income which is not always there, because of expenses and vacancies. In other words we are running full blast at a $3,500 deficit per month and we refuse to stop. I'll die first! I don't want to be here on this earth unless we are helping these pastors to grow and become self-sufficient in their ministries and lives. We can't just stop or slow down because the world is 9/10's lost and going to hell. We cannot give up or slow down no matter what, we need your help Now!!!

We'd like you to ask yourself one question, "What amount could I give on a monthly basis that would not impede anything else going on in my life." Sometimes people don't give anything because they think it's too little. If everyone that we know would realize that something is better than nothing, I truly believe that the deficit that we've been experiencing would be obliterated and the kingdom of darkest will shake in fear from the results. To give you an idea, every month we see 5,000 plus souls won to the Lord just doing the seminars. That doesn't include the residual effect of the seminars in the local churches that participate. 35 families giving $100 a month would do it. 100 families giving $35 a month would do it. Please pray about it and pray for us.

You can be a part of this battle for men's souls by joining us with your monthly support helping us reach out to pastors to train them how to win this lost and dying world.

Love you all, Tony

CLICK HERE TO

Or you may send your tax deductable contribution to:
Revival Fire Ministries International
P.O. Box 30487 Amarillo, TX 79120


Pastora Remy teaching and with two of our recent classes.
Pastora Remy Reflects
on Recent Seminars!
We are now on the 5th batch in 6 weeks and the sense of achievement and fulfillment overflow in our hearts that the physical exhaustion and fatigue came unnoticed. Glory to God that despite the odds with 4 batches in a row God is faithful in meeting the rising cost of these seminars, we are able to fulfill its purpose of equipping attendees not only to be powerful but unstoppable soul winners.

In Davao City batch 174, a pastor's daughter and a leader in their church had an eye surgery 3 weeks prior to the seminar. It has been her ardent desire to win souls but she is not effective in memorizing long verses, so that she considered herself as a failure in evangelism. So despite her blurred vision she attended. During her first 2 practicums she had zero presentations!!! Reason? Her vision was impaired and cannot read the Bible. With loud sobs and tears she knelt down to the Lord for help. She was able to memorize the 6 steps including the 3 verses!!! She graduated as the top soul winner for winning 62 souls to the Lord. She became so addicted to soul winning she missed her dinner and skipped breakfast the next day to do the practicum. A young evangelist at the age of 17 is born – sis Jessiah! She can win millions of souls in her life time as a result of attending this 3 day seminar HALLELUJAH!!

In Cordova Cebu Batch 173 a pastor finally won the respect and the souls of his immediate family and relatives which he had been working on for years…they were impressed that he can now read English. Ptr Ernie 79 years old memorized the steps and the 357 magnum that it looked like he was reading them from the Bible (He is illiterate by the way, never been to a formal school). Impressed and realizing the command of Jesus to be born again the whole family was led to the Lord. What a joy to have the assurance that your whole household is saved. Glory to God!!

Every time we finish a class there is at least 2-3 invitations to conduct the class to another location. This means our calendar for 2017 is full and loaded with 3-4 classes in a month. The demand is rising which is tantamount to rising costs. We have increased food supplements and vitamins (lol but true) as we are in our golden ages, to cope with the physical demand. A rabbi said this could be the last jubilee and we need to double time winning the lost before Jesus comes.

I feel the urgency of winning souls and I have faith that as we do God's business He will provide. How blessed are the people who partner with us as their return on investments come from our Great Source and it counts for eternity! As I remember the fact that a soul cost the blood of Jesus the more I am convicted to pursue this ministry with all our sweat, tears and blood in the trainings which also produce Jessiahs and Ernies.

Praise God He will fan the flames, pour gasoline on the fires of these mobile seminars thru our partners who have the same kingdom and eternal mindset!!!

TO GOD BE THE GLORY!

Pastora Remy T Mordeno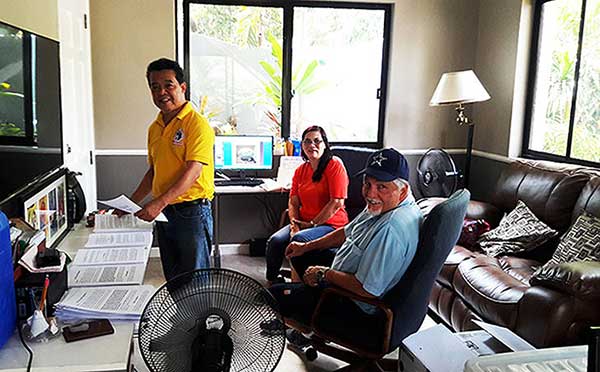 Tony, Al and Remy in the office, getting the materials ready for the next seminar.
New Home / Office!
Just got moved into Erick's house on the Dunamis property. Office is squeezed into his little living room and over flows into the adjoining garage. Tight, but it works, and from here we can easily oversee the building process on the mission center when it starts. I know we keep saying the insurance may fund any day, but we really do think it could be this next week. So keep praying!

Pastor Steve Hill and his son Judah dropped by for lunch and fellowship last week while they were in the Philippines. Always a blessing to see that sweet family!

God bless & love you, Calli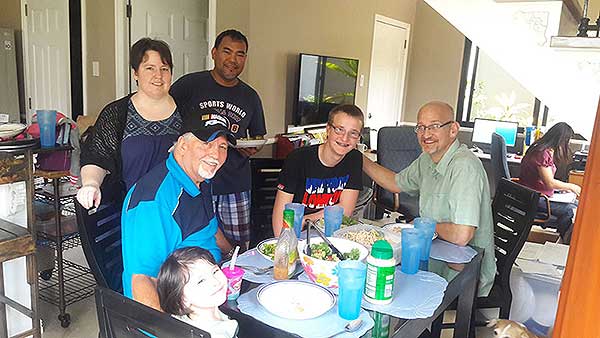 Fellowshipping with our dear friends Steve and Judah Hill.

CLICK HERE TO

Or you may send your tax deductable contribution to:
Revival Fire Ministries International
P.O. Box 30487 Amarillo, TX 79120