July 2017 Newsletter
Laced with terrifying check points, fully armed soldiers, evening smoke from ongoing horrific battles nearby;
Dunamis staff braved 3 back to back seminars in war torn MuslimProvince – Lanao del Sur!
This last month, my team went into a very dangerous area on the martial law laden Mindanao Island! We sent 4 of our staff and volunteers to hold 3 seminars to train pastors and leaders with our cutting edge evangelism program (Stealth Evangelism Training Program) I want you to read the stories of the experiences they had that most of us would consider perilous and not something you would dare go do.

Calli and I were in Europe for 3 weeks (with our daughter Krystel and her new in-laws) while this was going on. It was a tough decision to have them go ahead with the seminars once martial law had been declared over the region. My first response was to call it all off one day during breakfast in Budapest I called Pastora Remy and told her to contact our travel agent and cancel the flights, call all the pastors and cancel, etc. That evening God woke me up with a sense of peace to let them go. So, I called Remy again and we decided together that it was the best thing to go ahead. All our staff and volunteers were ready to go into the battle region and do the seminars. Now, read for yourself their harrowing accounts of the seminars.

We have two more seminars this month that will cost approximated $2,200 to go do. One is back in the same area of the war in Mindanao in Lanao Del Sur which is also infested with the IS Muslim group and militant NPA group. There is still danger but my staff is fearless. The other seminar is in Cebu and I'm leading that group personally. We have determined that I can't go with the team to Lanao Del Sur because I would enhance the danger for the whole group because I'm an American. It might be suicide for all of us with me along. Please help us continue to bring the war for men's souls to these regions where the devil is trying to keep them from hearing the Good News.

You can join us right now with financial support for each of these seminars that we bring every month. We need help!!!!!

Love to you all, Pastor Tony Poole

CLICK HERE TO

Or you may send your tax deductable contribution to:
In U.S. Send your tax deductable contribution to:

Revival Fire Ministries International

P.O. Box 30487

Amarillo, TX 79120

In Philippines, deposit directly in BPI account:

Bank : Bank of the Philippine Island

Account Name: Dunamis International School of Missions to Asia

Account No. : 1761-0035-81

Flying into danger
Yet safe with the Peace of God!


Pastora Remy Mordeno
Despite the high risk of safety travelling to Mindanao, Dunamis team of 4 took flight on June 4. With the Peace of God, we were bound for Lanao del Sur where Batch 1715 of Stealth Evangelism Training would be conducted in Kapatagan, just 3 hours away from Marawi City where the civil unrest is at its height, where Maute/Isis connected and government troops exchanged fire, as the former wanted to take over the city and make it a regional headquarters of ISIS.

Batch 1715 is composed more of elderly pastors/senior adults who had a hard time memorizing the steps but showed strong desire and determination to learn. They had very low educational attainment but were high in their spirits to win souls for Jesus using our 357 Magnum technique. Hence they did not have difficulty doing street evangelism. Many Muslims were won but majority of them refused to give us their contact numbers for fear that they will be called on to join ISIS or persecuted. This batch won 1,148 souls during the practicums. Our team had troubled nights as in the middle of the nights they woke up with powder smell from the military air and land assaults in Marawi.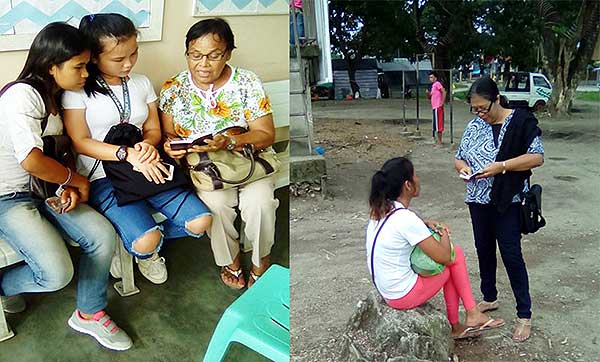 Students in Batch 1715 out leading people to the Lord during their practicums!
Passion for Souls
Pastor Rodrigo has been a pastor for so many years, but admitted that it is during the practicums that he first did soul winning on a one on one basis. Stewart was surprised that Evangelism could be that simple and easy. He used to shy away from witnessing. Another student Cielito, her persistence paid off with an old woman she was witnessing to, who was very antagonistic, but when Cielito began reading the verses 3, 5 and 7 of John 3, she was won to the Lord and cried while praying to accept Jesus.

Sis Dominica was planning to go home and do the evangelism exercises in her place away from the actual practicum sites. She feared she will have a difficult time doing her practicum because she does not know anyone in the place, but she saw one of our staff members following them so she and her 3 teammates were compelled to do the practicum at the assigned designated site and they were overwhelmed with the result. They were glad they were able to share with strangers! Praise the Lord!! This boosted their confidence in soul winning. With the passion for souls burning in our hearts, our team continued with the training through graduation, of which we had 28 graduates with 16 pastors and 12 leaders. Then we proceeded afterwards on a 5 hour land trip to the next batch which was in Zamboanga Sebugay!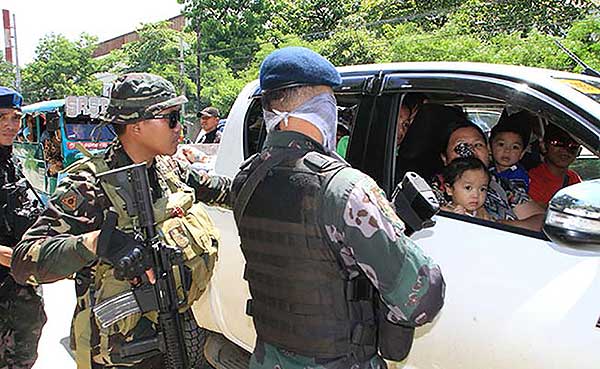 Highest priority –
Finding and winning the lost!
Batch 1716, in Kabansalan, Zamboanga Sebugay is in Northern Mindanao where the vast majority of its people are Muslims. This batch was so grateful Dunamis team came. We realized the highest priority should be on finding and winning the lost. With the current civil unrest near this province, we were moved to share the Gospel before ISIS could come to their place. We have taken on the burden of giving them the Gospel before these unbelievers could be slaughtered. We were warned of experiencing Acts 8:1 (persecutions) if we fail to do Acts 1:8 (receive power and be witnesses of Jesus). As in the case of Marawi, hundreds were killed and beheaded during this 30 day war between government troops and Maute which is ongoing even now! During this Batch we had 1,148 souls won to the Lord. Praise the name of Jesus!

Ptra Anelie, despite being a pastor, was suffering from lack of confidence in witnessing because she was afraid that she will mess up the words of God and confuse the lost person by not knowing exactly what to say. Eager as she was to win a soul, she used to bombard a person with so many verses which invited more questions and doubts. Thanks to the 357 Magnum technique, sharing the Gospel has become so easy and direct to the point, the unbeliever no longer wants to debate nor refuse. Praise the Lord!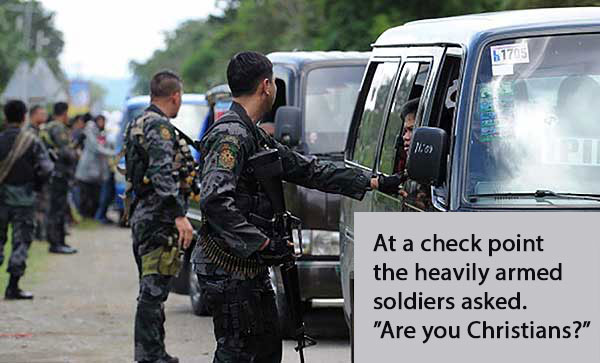 Through check points and martial law!
After this batch, the team went to Tamaraan, the next location! Passing thru 8 foreboding military checkpoints manned by 14 to 15 heavily armed soldiers for a 3 hours land trip. The first checkpoint was really the most scary moment of the trip because the military stopped the vehicle, asked us to roll down the windows, bring out identification cards issued by the government and asked us "Are you Christians?" all 5 of us seated in the car were tongue tied, speechless and cannot utter even a simple yes or no. We were too confused what to answer because it could spell life or death. (There was news that in an instance in Marawi, a group of 9 persons were asked if they are Christians, and only one survived the beheading because she was able to recite a Muslim prayer while the other 8 were immediately beheaded.)

But after seconds of silence, our driver who is a Pastor's brother residing in Zamboanga finally said "Yes, they are all Pastors!" and it was the cue for us to go and leave the checkpoint. All the other 7 checkpoints had a similar question plus they ask where we will be going and what we will be doing there. Praise God, we survived the checkpoints with butterflies in our stomach every time we approach a checkpoint manned by 14-15 military men in their combat battle ready attire with their bullets, armalite, guns on public display. After all, it is martial law in the area!!!
The outermost part of the world!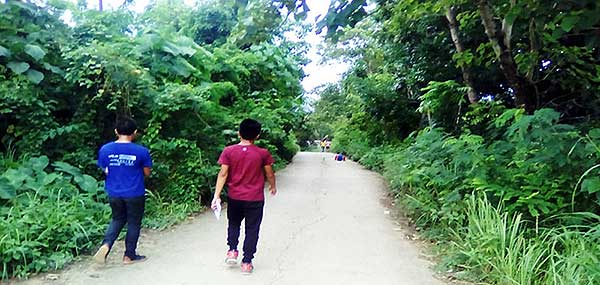 Above: Two students going out witnessing.
Below: Students witnessing to local family.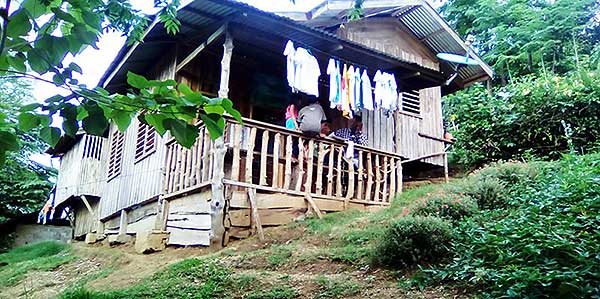 Batch 1717 in Tamaraan, Zamboanga City is the last and farthest city in Zamboanga, making it look like "outermost part of the world", with all the jungle. No electricity during the evenings as the source of their power is from Marawi City, this is the biggest batch among the 3, having 41 graduates and winning 2,006 new souls to the Lord! This is the batch with major highlights and received a major impact in the seminar. A pastor and his wife were about to quit in the ministry but were curious to see our caption in the poster that says "learn to win a soul in 5-7minutes" and since it is a free seminar, they attended. Their love for the ministry revived and their hearts flaming with the fire of evangelism, and is now more keen on doing the Ministry the Lord has entrusted to them. They vowed to restart with an intensified zealousness and enthusiasm to get positive results pioneering a new church. Bishop Robinson declared that this seminar is a life changing event as it caused a paradigm shift about the Great Commission. It is an empowering tool and people are transformed to be fearless and unstoppable soul winners. Glory be to God!!!

— Pastora Remy

CLICK HERE TO

Or you may send your tax deductable contribution to:
In U.S. Send your tax deductable contribution to:

Revival Fire Ministries International

P.O. Box 30487

Amarillo, TX 79120

In Philippines, deposit directly in BPI account:

Bank : Bank of the Philippine Island

Account Name: Dunamis International School of Missions to Asia

Account No. : 1761-0035-81