January 2017 Newsletter
February's Fantastic Four!
February promises to be very busy for us here at Dunamis, with four mobile trainings scheduled for four weeks in a row. Praise God, many thousands of souls will be saved in these seminars. Each of them we will be flying two of our staff in along with me.

Without a doubt we need some financial help with these seminars. Each one will cost between $1,200 and $1,500 including cost of staff and airfare plus accommodations for staff and food for all the students, etc. Keep in mind that every time we do a seminar there is 800 to 5,000 people born again through the immediate impact of the seminar. What an opportunity to sow. We need your assistance so please help us make this happen.

If you want to, you can designate the seminar you want to support. That would be great, and we'll be able to share with you the exact impact after the seminar. Remember the seminar is just the beginning of what you reap. Every soul that these students win from now till they go to be with Jesus will be your harvest too. Halleluiah! – Pastor Tony

Left: Arial view of Gen San
Right: Tony and Manny Pacquiao were guest speakers at a wedding.
Feb 1-3, 2017 Glan, General Santos City
80-100 participants
The first one is in Glan, Sarangani. It has been organized by a graduate of the General Santos City batch 131 due to an overwhelming result of the previous batch practicums. This is going to be a biggy for souls. Last time we had this many students they won over 5,000 people to the Lord!

The Island of Sarangani was once a part of South Cotabato, but in 1992 it was declared by law as part of Davao Occidental. It has 7 municipalities of which Glan is the biggest in terms of population and is second largest in land area. In this municipality, 73% are Catholics, 9% belong to Islam and only 6% of the total population are born again Christians.

This may be a challenge, but will surely produce a huge harvest. The island is home to the world's boxing champion Manny Pacquiao who is now a born again Christian and is currently a Senator here in the Philippines. I had the pleasure of meeting Manny at a wedding we were both guest speakers at a wedding a few years ago. And we have trained several pastors and leaders in his church there in Gen San.


Above: After the super typoon Yolanda in 2013
Feb 7-9, 2017 Ormoc, Tacloban City
50-60 participants
Some of you may have given financial help during Super Yolanda's aftermath. Ormoc, Tacloban City hit the headlines not only in the Phiippines but gained international attention due to super typhoon Haian / Yolanda in November 2013.Devastated by this super typhoon which killed more than 4,000 persons, left 2 million families homeless and 90% of the city in total wreckage, it is just God's appointed time that the team goes to this city to minister to its pastors and train them on Stealth Evangelism.

Ormoc is a port city and is the largest city by land area and the second largest in Eastern Visayas. It has 110 barangays and has been consistently battered with natural calamities like flash flood in 1991 which recorded 4922 deaths; store fire in 2006; super typhoon Reming in 2006; super typhoon Pepeng in 2009 with 27 billion pesos or $60 million in damage; and the latest was in 2013. Billions in damage and more than 4,000 deaths!

God loves those people and is sending us in to start His revival on that island. The pastors are so excited to see true revival in their calamity torn city. You could be a part of bringing revival to these hurting people. The seminar will cost $1,200 to $1,500. Just sow what you can and help make this happen. We want to thank you in advance for partnering with us.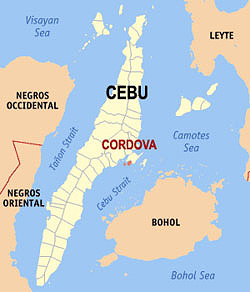 Feb 14-16, Cordova, Cebu City
60-70 participants
Cordova, (also spelled Cordoba) is a 3rd municipal income class municipality in the province of Cebu, Philippines, and is part of the Central Visayas Region. Most of Cordova lies on separate islands off the southern coast of Mactan Island. It is connected to the main island of Mactan by two bridges with a third to be opened by 2020. A 3rd income class municipality, it is known for its mangrove plantations and farming. Predominantly catholic, the training in this place expects a massive number of souls to be led to the Lord. Another big opportunity for a perpetual harvest and an immediate harvest. Again, here is another opportunity to sow. Seminar cost is the same and please just click on the donate box below. You can also send in your gift to RFMI, PO Box 30487, Amarillo, Tx. 79120


Feb 21-23, Davao City / 50 participants
Davao training is a sequel to last year's batch training and due to a significant result after the training of the previous batch, there was a strong clamor to reach out to other pastors to avail of the program.Expecting 50 pastors to join in this training. Certainly Davao will be a great harvest field. What an awesome opportunity this is. Davao is a city of nearly 2 million population and a great city to impact with this training.

There is a huge prophetic call on Davao as a launching pad for missionaries to all the world. We need help with this one also. Naturally sowing into this one is like sowing into world evangelism, for that matter they are all like that. We need your help! This is another opportunity. I hope you don't think I'm begging. I'm just offering you the opportunity to sow, haha! God will provide for the spreading of the Gospel and doing His work, so it's not my problem, yet I do need to share and give the opportunity, Amen? Ministry is not free to those who give it, only to those that receive it.

Also in February…Moving!
During February we will also be moving out of the rent house we have been in since the fire and into Erick's house on the back of the Dunamis property so we can oversee the construction of the new mission center once it gets started.

Praise God, we are meeting with the Insurance Commission and the representatives of the insurance company tomorrow. Hopefully we will get this newsletter out to you this evening our time maybe some of you can be praying for that meeting to go well.

Moving will avail us a free place to stay till we build the center. We are storing anything that won't fit in the old garage area. We built a platform to make sure everything stays high and dry until we finish.

So ya'll keep us in prayer concerning all the details of the plans and construction. May the Lord guide us every step of the way! Love you all, Tony & Calli

CLICK HERE TO

Or you may send your tax deductable contribution to:
Revival Fire Ministries International
P.O. Box 30487 Amarillo, TX 79120