The Privado Family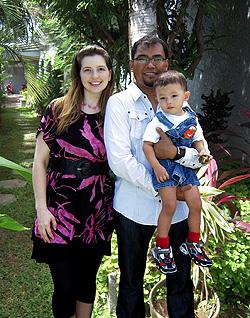 Felicity Privado moved to the Philippines with her parents in 2003 to become a missionary. In 2006 she married a Filipino Erick Privado and they have worked together as the design and technical team for Dunamis International School ever since.
Felicity works fulltime doing all the graphic arts. She designs the brochures, cards, flyers, and logos needed for the ministry. Erick works part time doing everything computers. He customizes software for the ministry, and keeps all the computers running smoothly. Both of them work together on the design, development, and upkeep of the website www.dunamisinternational.org
Their son Miles Wyatt was born in November of 2008 and is the family's bundle of energy and joy.
On the side, Erick runs his own freelance business. He provides website design and development, software customization for web and desktop, and other I.T. services.